JROTC/ROTC PROGRAMS ONLY.
(Young Marines, Sea Cadets, DEP, RSP and other similar programs are accepted)
All prices include admission and rental gear if needed.
FALL, WINTER, OR SPRING:
Weekends only. 8am-11am. Arrive 15 mins prior for check in.
Starting at $450 for 20 players.
$15 per additional player.
SUMMER BREAK:
Weekdays only. 4 hour block. Arrive 15 mins prior for check in.
Starting at $350 for 20 players.
$15 per additional player.
Call us if interested: (916) 742-3109
How do JROTC/ROTC events differ from "private parties?"
A normal private party is typically a birthday where the emphasis is a fun experience led by a staff member. If you'd like a fun MWR style day, this is totally possible however most programs want there to be some kind of structure and learning objective.

What James can do is use the "crawl, walk, run" approach to teach cadets 10 level teamwork and leadership principles.

Some subjects James will go over typically include roles and responsibilities, accountability, moving and working as an effective team, communication, critical thinking skills under stress, delegating priorities of work, receiving a task, briefing the task, making a plan, and executing the plan as well as how to conduct an after action review.​

ABOUT JAMES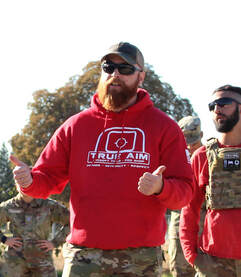 James is a former Army Staff Sergeant.
Active duty. MOS 19K M1 Abrams Tank Crewmember.
4th Infantry Division- 1-10 CAV and Division G3 Operations.
Two deployments to Iraq.

California Army National Guard. MOS 31B. Military Police.
270th MP Company.
Platoon Sergeant for the External Security Forces of the Joint Detention Group in Guantanamo Bay, Cuba.


Food and Drinks Policy:
-Outside Food and Drinks (non-alcoholic) are allowed.
-We do have snacks and drinks available for purchase.

Any additional questions please call (916)742-3109 and ask for James.

Risky weather
If you have a private party on a "risky weather day", we will give 3 days notification to reschedule. If you accept the risk and we close early, no refund or reschedule will be given.
Weather that qualifies as "risky" are forecasted lightning storms, High winds 25+mph, Flooding, or high temp days 102+.

REFUND/CANCELLATION POLICY:​
Full refunds are generally given if party is cancelled within 72 hours before the event.
No shows will not be refunded. ​
---