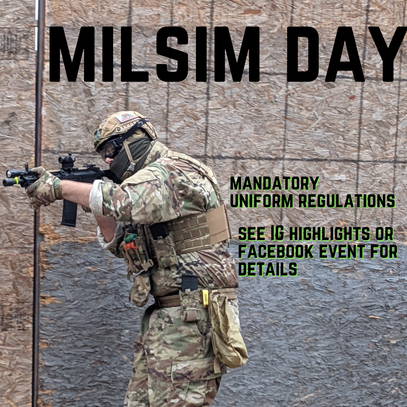 "Milsim" is short for "military simulation." In airsoft, it generally means a more specific and immersive role playing experience than the standard public play sessions.
In the general airsoft industry, a large scale "milsim event" can cost anywhere between $120-200 for a weekend depending on the venue and also has mandatory dress codes and additional equipment restrictions and regulations. Large scale events are usually put on by companies such as the Desert Fox Events and Milsim West in southern California and throughout the country.
We created our monthly Milsim Day as an introduction into how those kinds of events run and operate while maintaining our normal entry fee of $20.
​
We don't recommend Milsim Day to newer players because of the more advanced rules for games and the additional required items that newer players may not be ready to spend money on.
If you are a military, law enforcement, fire or EMT veteran, your admission is free and you can use a free basic rental package.
Basic rental packages are ONLY available if the player shows up in the proper attire. NO SWEAT PANTS! We will deny the player entry if they're wearing sweat pants.
Milsim Days are one of the most unique experiences you can have at a weekend field since our Milsim Day Coordinator and Operations Manager James has over 10 years Army experience and 8 year experience as a civilian police officer as well as being a Dungeon Master for the 5e version of Dungeons and Dragons.
If you'd like to see what our Milsim Days look like, check out our
YouTube channel.
If you have questions, please
EMAIL US
,
DM US
, or
JOIN OUR DISCORD SERVER.
---